The morning of my wedding day in my bridal suite was nothing short of a three-ring circus. I was so preoccupied with trying to stay calm and just be in the moment that instead I became the most distracted person on the planet. I'd made up my mind early on -- this wedding was going to be perfect. Why else would I have spent the last seven months tirelessly planning and obsessing over the most tedious of details? Yet somehow, I couldn't even remember my own name. And then a knock on the door; my maid of honor had arrived to reign in the crazy! Make-up and hair began beautifying, my mom and my fiancé's mom arrived and a mimosa happily made its way into my hand -- perfect.
It was imperative to my mom, however, that everyone know she must find coffee because what we offered was subpar. Sigh. Mom and I'd come a long way in our relationship. We were known to butt heads; I realize now we did so because of how alike we are. We both longed for the friendship we knew was just within our reach.
Coffee addiction satiated, the bridal suite became alive again. We laughed and went on about how "gorgeous" the other looked. It was perfect. Much like I imagined Cinderella must have done, I didn't want to know what time it was or how much of it was left before this moment would be over.
My pumpkin carriage arrived. They shoved my dress into the car and the butterflies that had been doing me a solid by containing themselves in my stomach now consumed me from head to five-inch heel. Holy matrimony! This was happening! My single life had less than a few hours to say its goodbyes. And everyone we loved would be there to witness a new beginning. I couldn't be happier and yet something inside ached. I missed my Dad. My mom would walk me down the aisle, a job with which she felt simultaneously overjoyed and disheartened. I ached for her, too.
All of a sudden, I was arm in arm with my mom, waiting for our cue. Wait!What was happening?! I thought there were still at least a few more things that needed to happen before this moment -- nope, because like at any wedding, or in life for that matter, it all just goes by too fast.
I'd planned to tell Mom how much I loved her, but it was too late. I swallowed the lump in my throat and instead all I could hear myself say was, "Mom, I can't look at you, because if I do I know I'll lose it."

We took one step, then another, and walked what I didn't know would be the last walk we'd ever share again. And just like that, she gave me away.

As I looked into my future's handsome face, the walk up to the altar felt easy, but a lifetime of childhood memories pulled at my heartstrings.
The band introduced us and kicked off the most magical night of our lives. The night was chilly, but people were sweating from dancing all night. Everyone danced with everyone. My husband twirled my mom around a few times. We held on to that night as long as it would let us. It was perfect.
There's only so much magic a person can process at once apparently, as the next morning we moved a lot slower; but we were married now! Any sluggishness gave way to the rush we got from experiencing ordinary things as thrilling new firsts. How was I to know I was also experiencing my lasts with regards to Mom.
The pumpkin carriage started to morph back into a plain pumpkin, the horses back into mice and the magic back into reality.

I hugged my mom and we said goodbye. If only I'd hugged her a little longer, tighter.

On the morning of our four-month wedding anniversary, I received that dreaded phone call. "Steph, Mom's in really bad shape. You need to come home." It was within these few words that I quickly gained the realization my life would never be the same, for it was almost 20 years ago to the day, my mom called me and said those exact same words about my dad. This can't be happening again -- so young, I thought.
The following 30 days felt like a year and a millisecond. The sterile white of the ICU replaced the pristine ivory of my wedding. The happy memories of our honeymoon, although only four months old, started to look like black and white pictures. And the idea of perfection seemed to plummet into a bottomless abyss.
Wait! What was happening?! There was still so much we needed to say and do together. I held on to every moment by her bedside tighter than I've ever held anything in my life. She wasn't conscious so I talked for both of us. I held her hand and thanked her for walking me down the aisle on my wedding day. I thanked her for everything. I apologized. I laughed. I cried. I screamed. And just like that, it was over.
A month later, my mother passed away due to complications from a thyroidectomy. None of it makes any sense. My gut so recently full of butterflies now felt devoured by grief. My life overflowing with joy, now felt shredded into a million, unsalvageable pieces. My full heart is now broken. She'd just twirled around the dance floor like she had so many times before in her life. She still had so much more time. But she didn't.
Every former bride I'd talked to before my wedding stressed the importance of taking a step back to appreciate the moment. It'd be over within the blink of an eye they warned, so no matter how difficult, try to live in the moment. And don't sweat the small stuff. Truer words were never spoken. In the end, none of the details that once seemed so monumental really mattered. What I said or didn't say to Mom before we walked down the aisle didn't matter.
Throughout all the planning, what we didn't account for was how much love would fill the room and that same love would shine brighter than any fancy lighting or décor. And when the party is over and the last guest gone, when time is up at the wedding and on earth, the love is what we are left with.
I couldn't look at Mom as we walked down the aisle for fear her tears would invoke my tears. It wasn't until we received our video that I noticed, she too, was struggling not to cry. The expression on her face in that moment will forever hold the memories of my childhood and reflect our whole lives individually and together.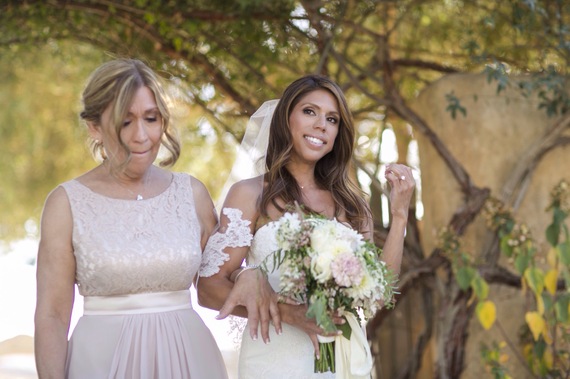 As I work through the grieving process and mourn what I've lost, what she's lost, I try not to regret what we did or didn't do or say to each other on my wedding day, or in life. I try not to get lost in the deep sorrow of what we almost had; we were so close to the mother-daughter relationship we'd both longed for, and now it would never be.
I try not to curse time for not allowing her to experience the joys of being a grandmother. Through the tears and darkness, I'm finally trying to step back. I'm trying to be grateful for what I do have: my new husband, a new life. I try to remember that as my true love story was just beginning and my mother's life on this earth was ending, my parents love story continued as they were reunited in Heaven. And through the pain, that vision comforts me. I'm trying. For the rest of my days, I'll try to focus on what we did have, what we did share, the life she blessed me with and our love, for with all its flaws and imperfections, was just perfect.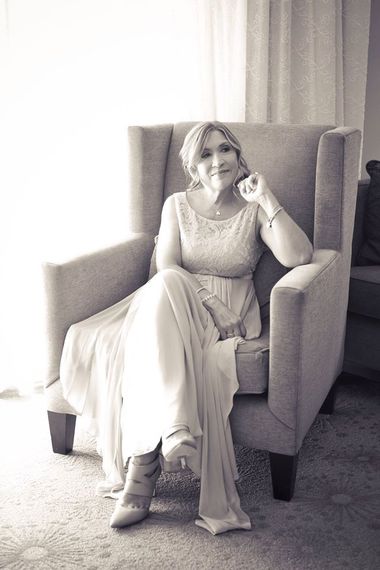 Photos: Allyson Magda Photography
This post is part of Common Grief, a Healthy Living editorial initiative. Grief is an inevitable part of life, but that doesn't make navigating it any easier. The deep sorrow that accompanies the death of a loved one, the end of a marriage or even moving far away from home, is real. But while grief is universal, we all grieve differently. So we started Common Grief to help learn from each other. Let's talk about living with loss. If you have a story you'd like to share, email us at strongertogether@huffingtonpost.com.