Lactancia materna: 21 fotos para demostrar que es algo natural
¿Debemos o no debemos dar de mamar en público? Un hecho tan natural como el de alimentar a tu bebé cuando tiene hambre se ha convertido de un tiempo a esta parte en un objeto de debate. Porque si bien en muchos lugares se acepta sin problemas, en otros tantos está mal visto o incluso prohibido. Así hace un año veíamos como una madre era expulsada de un establecimiento de Primark por darle de mamar a su hijo en público y en Estados Unidos solo se protege a las mujeres en las instalaciones del gobierno federal mientras que los establecimientos privados pueden aplicar sus propias reglas. Estos hechos hacen que muchas mujeres se sientan incómodas al tener que dar de mamar a sus hijos en espacios concurridos.
La fotógrafa y madre de cuatro hijos Leilani Rogers conoce bien cómo es esta situación y por ello ha decidido buscar una forma de normalizar la lactancia y mostrar su apoyo a las madres que tienen que dar de mamar a sus hijos.
La artista residente en Texas lanzó este año la iniciativa The Public Breastfeeding Awareness Project (PBAP), que nació semanas antes de la Semana Mundial de la Lactancia Materna (World Breastfeeding Week). Para ello convocó a alrededor de 50 fotógrafos de EEUU, Canadá e Irlanda para que tomasen fotos de madres alimentando a sus hijos en lugares públicos como parques, tiendas o cafeterías.
Ahora, esas imágenes se pueden ver en su página de Facebook, así como en los blogs de los autores y en las redes sociales a través del hashtag #PBAP2014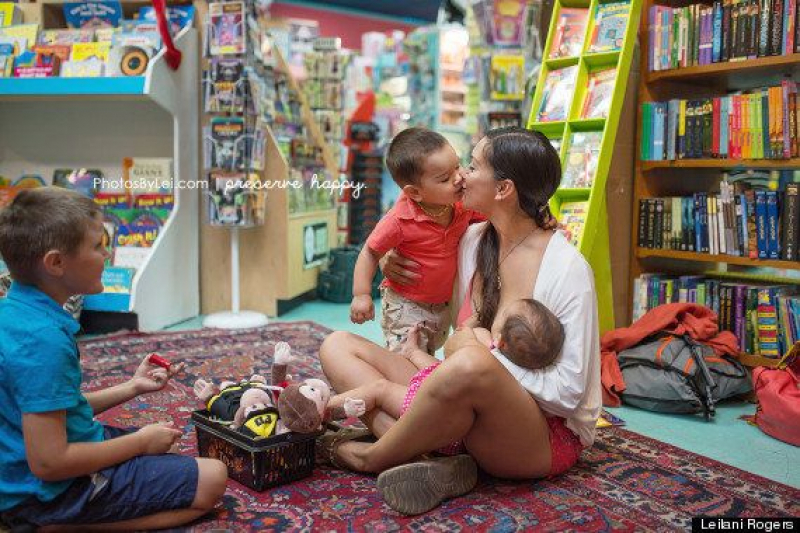 Entre los nombres que se ha unido al proyecto de Rogers figura el de la autora Kayla Gonzales. "Espero que estas imágenes puedan servir a madres de hoy y del futuro para alimentar a sus hijos en cualquier sitio y en cualquier momento", explica a nuestros compañeros de The Huffington Post a través de email.
Gonzales añade que está gratamente sorprendida con la cantidad de mujeres que se han unido a este proyecto que pretende demostrar que la lactancia es algo natural: "Quiero que la gente vea que esto no es una exhibición. No se trata de llamar la atención, ni de avergonzar a las madres que no dan de mamar. La lactancia materna responde a la necesidad de alimentar a un bebé hambriento y nada más. Es la forma natural de alimentar un hijo".
El proyecto se une a otras iniciativas que recientemente se han producido en Estados Unidos para llamar la atención sobre la necesidad de normalizar este hecho. Una fue la polémica campaña When Nurture Calls en la que se mostraba cómo diferentes madres tenían que esconderse en baños, no siempre limpios, para tener que alimentar a sus bebés.
En The Public Breastfeeding Awareness Project se recogen numerosas fotos de madres alimentando a sus bebés en distintos lugares del mundo convirtiendo ello en un hecho normal. Aquí tienes algunos ejemplos: