11 cosas muy raras que no sabías de The Beatles (FOTOS)
Puede que no sean cuestiones de vida o muerte, pero si mañana participas en un concurso de Trivial sobre The Beatles, seguro que te sirven estas 11 curiosidades de los de Liverpool.
1. Decían que en los conciertos de The Beatles olía mucho a orina por la sobreexcitación de las chicas.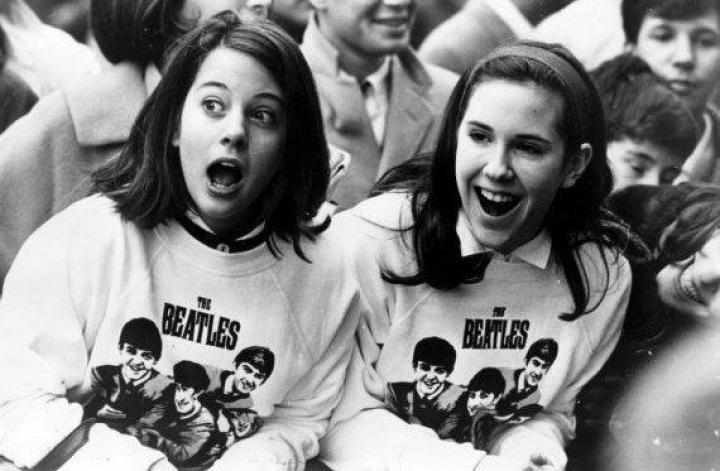 Mucha gente afirma que los espectáculos de Los Beatles eran famosos por el olor a pis. Concretamente, John B. Lynn, hijo del propietario de un lugar donde tocaban, contó a The Washington Post que en el concierto olía a pis por la sobreexcitación de las fans. Bob Geldof explicó a Q Magazine en 2010:
"Con The Beatles las chicas llegaban a lo más alto. Es un antiguo cliché, pero no se podía oír el concierto de todo lo que gritaban. Me acuerdo de mirar por el suelo del cine y ver riachuelos de pis por los pasillos. Las chicas se orinaban literalmente de la emoción. Así que lo que más asocio a The Beatles es el olor a orina".
2. George Harrison perdió la virginidad mientras el resto del grupo le espiaba. Luego aplaudieron cuando acabó.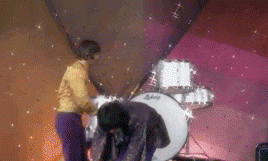 Tune In, de Mark Lewisohn, es una antología de 3000 páginas sobre The Beatles en la que se puede leer la siguiente cita de George Harrison:
"Eché mi primer polvo en Hamburgo, mientras Paul, John y Pete Best me miraban. Estábamos en literas. No podían ver nada porque yo estaba debajo de la colcha, pero cuando terminé se pusieron a aplaudirme y a animarme. Por lo menos estuvieron callados entretanto".
3. The Beatles se separaron oficialmente en Disney World.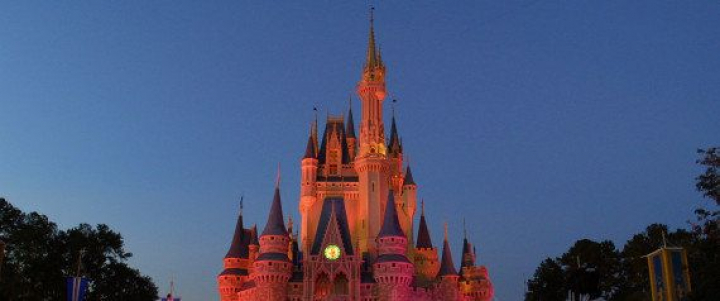 May Pang, antigua novia de Lennon, explicó en su libro, Instamatic Karma, y luego en The Daily Mail, el momento en que Lennon puso fin al grupo:
"Cuando John colgó el teléfono, se puso a mirar con melancolía por la ventana. Es como si pudiera verle recordando la experiencia del grupo en su mente.

Al final cogió su bolígrafo y, con aquel extraño telón de fondo, en el Hotel Polynesian Village en Disney World, acabó con la mayor banda de rock'n roll de la historia con una simple firma al final de la página".
4. The Beatles planeaban crear su propia comunidad utópica en las islas griegas.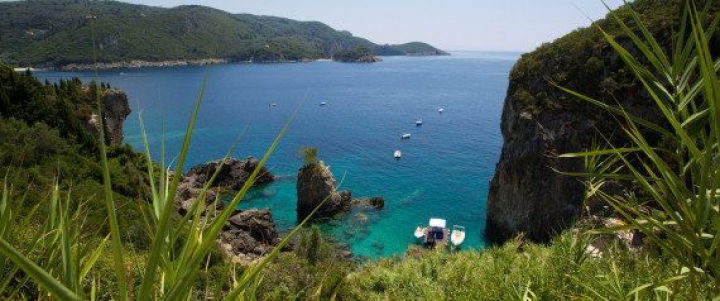 En 1967, The Beatles estuvieron a punto de comprar una isla en la costa ateniense, donde pensaban crear una especie de comunidad utópica con sus familias y amigos. Parece que fue John Lennon quien lo propuso y dijo: "Lo han probado todo. Guerra, nacionalismo, fascismo, comunismo, capitalismo, asco, religión, y no funciona nada. Entonces, ¿por qué no esto?". El libro de Barry Miles, Paul McCartney: Many Years From Now, contiene una frase de McCartney: "Me alegro de no haberlo hecho porque todos los que probaron esas ideas al final se dieron cuenta de que siempre se formaban discusiones, de que siempre había alguien que se tenía que ocupar de limpiar y fregar las letrinas".
5. Un dentista introdujo a The Beatles en el LSD vertiéndoselo secretamente en el café.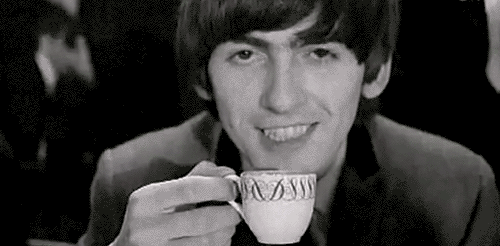 John Riley, el "dentista malvado", como le llamaba George Harrison, metió en el LSD a Harrison, a su mujer, Patti Boyd, a John Lennon, y a la mujer de Lennon, Cynthia Lennon, un día que salieron todos juntos. Después de echárselo en el café, Cynthia Lennon describió la habitación "tan grande como el Albert Hall" y, aparentemente, George "se enamoró" de todas las personas que conoció esa noche. No queda claro si a Harrison y a Lennon les engañaron para tomar la dosis o si realmente ellos pidieron al dentista que lo hiciera cuando menos lo esperaran. En The Beatles Anthology, Harrison recuerda el incidente:
"La primera vez que tomamos LSD fue un accidente. Ocurrió por 1965, entre álbumes y tours. Fuimos víctimas inocentes del dentista malvado con quien quedamos y cenamos unas cuantas veces...

Después de la cena, le dije a John: 'Vámonos, ellos se irán pronto', y John me dijo 'vale', pero el dentista insistió: 'No os vayáis, quedaos aquí'. Y luego dijo: 'Bueno, acabaos al menos el café'.

Así que nos terminamos el café y al rato volví a decir: 'Vámonos, que ya es tarde'. El dentista le dijo algo a John, John se dio la vuelta y me dijo: 'Hemos tomado LSD'.

Yo sólo pensé, 'vale, ¿qué es eso? ¿qué más da? Vámonos'".
6. Los rusos soviéticos tenían que escuchar la música de The Beatles en escáneres de rayos X convertidos.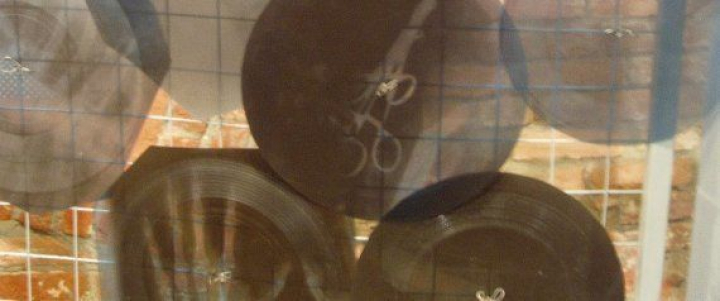 La música de The Beatles, junto con otras muchas bandas occidentales, fue prohibida en la Unión Soviética, haciendo de los vinilos un objeto preciado, costoso, e incluso peligroso, del mercado negro. Por eso se inventó un truco ingenioso para imprimir la música de forma barata en escáneres de rayos X usados, que se cogían de los vertederos del hospital o se compraban. A estos escáneres se les llamaba "la música en los huesos". Esta práctica se inició en los años 50, pero parece que fue la Beatlemania lo que provocó que aumentara de forma increíble la popularidad de este sistema.
7. Después de asearse en urinarios durante casi un año, echaron a The Beatles de Alemania por prender fuego a un condón.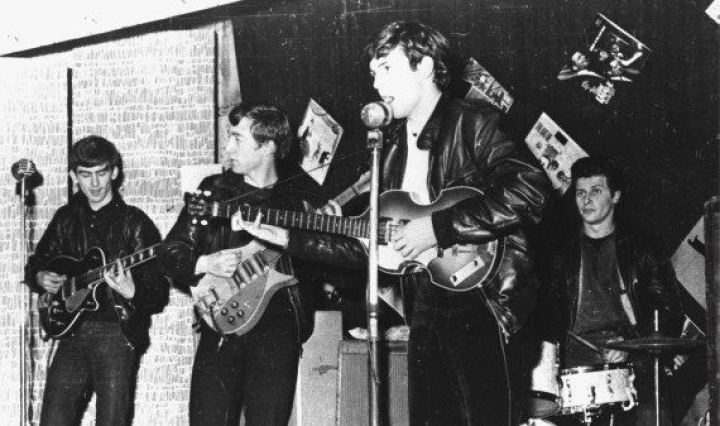 La banda pasó casi todo el año 1960 en Hamburgo (Alemania), viviendo detrás de la pantalla de un cine llamado Bambi Kino. Paul McCartney describía así la situación: "Vivíamos en el escenario del Bambi Kino, al lado de los lavabos, y siempre llegaba el olor". Aparentemente, la banda estuvo obligada a usar urinarios para asearse y afeitarse. Al final, echaron a George Harrison del país por ser menor de edad. Entonces, los Beatles planearon irse del Bambi Kino, pero antes de irse, McCartney y el entonces batería Pete Best, prendieron fuego a un condón en la habitación, lo cual enfadó mucho al propietario y por ello les detuvieron. McCartney y Best fueron deportados.
Después, The Beatles volvieron a Hamburgo y el 25 de diciembre de 1962, la banda se comió un caballo en la cena de Navidad.
8. The Beatles fueron pioneros en muchas cosas, como incluir el símbolo de los cuernos típicos del rock en una portada de álbum.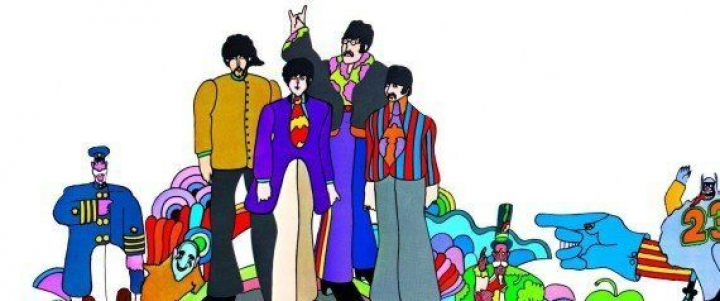 The Beatles fueron los primeros en hacer muchas cosas, como imprimir la letra de las canciones en un álbum, crear vídeos musicales y hacer un concierto en un estadio, pero lo más peculiar que hicieron fue el gesto de los cuernos. La figura de John Lennon en la portada de Yellow Submarine parece ser la primera en hacer el símbolo en la portada de un álbum y una de las primeras veces en que se asoció a una banda de rock.
9. Una adolescente de Maryland empezó la Beatlemania en los Estados Unidos.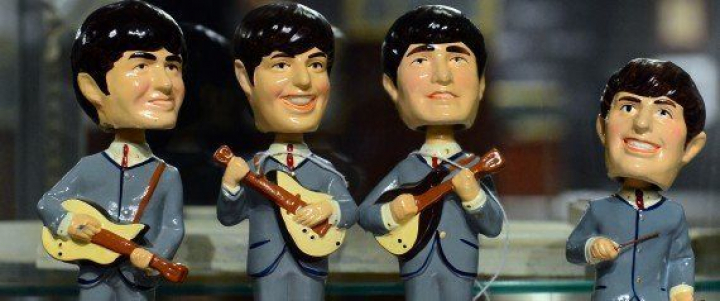 Según cuenta la leyenda, una joven de 15 años de Maryland llamada Marsha Albert provocó el despegue de la Beatlemania en Estados Unidos. Después de ver una noticia sobre la banda, Albert llamó a una radio local en Washington, y preguntó: "¿Por qué no tenemos música así en América?". El DJ entonces puso I Want To Hold Your Hand e hizo que otras emisoras también pusieran canciones de The Beatles. En cambio, un DJ llamado Dick Biondi ponía canciones de Los Beatles en Chicago y Los Ángeles, pero las canciones no tuvieron éxito en ninguna ciudad. Quizás el problema es que Biondi ponía mal el nombre de la banda: B-E-A-T-T-L-E-S.
10. John Lennon estaba borracho cuando conoció a Paul McCartney.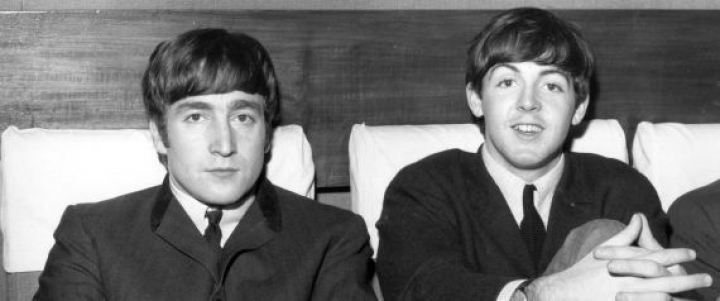 El 6 de julio de 1957, Paul McCartney conoció a John Lennon por The Quarrymen. Después del show de The Quarrymen, los dos acabaron tocando juntos y Lennon estaba bastante borracho, tal como recordaba McCartney:
"Lo conocí en las fiestas de Woolton. Yo era un colegial gordito, y cuando se apoyó en mi hombro, me di cuenta de que estaba borracho. Teníamos 12 años, pero, a pesar de sus patillas, nos hicimos buenos amigos".
En realidad eran más mayores: McCartney tenía 15 y Lennon 16.
11. La publicación oficial del Vaticano consideró a Revolver como el mejor álbum pop de todos los tiempos.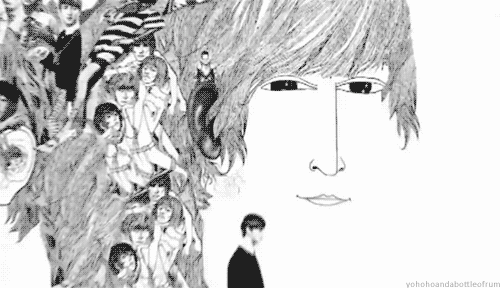 Esto fue publicado en un artículo de 2010, a pesar de que el Vaticano calificó a The Beatles de satánicos después de que John Lennon dijera que la banda era "más popular que Jesús". El Vaticano "perdonó" a Los Beatles en 2010, lo cual pareció innecesario a Ringo Starr.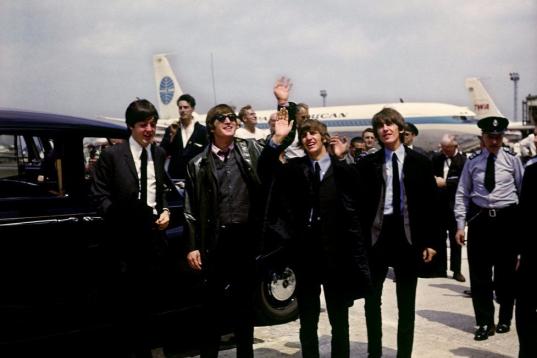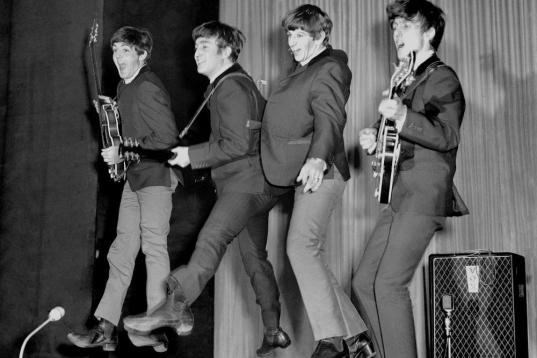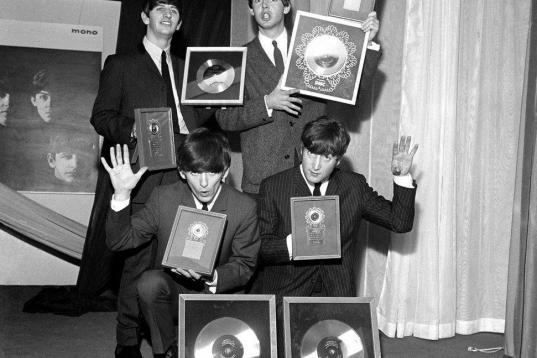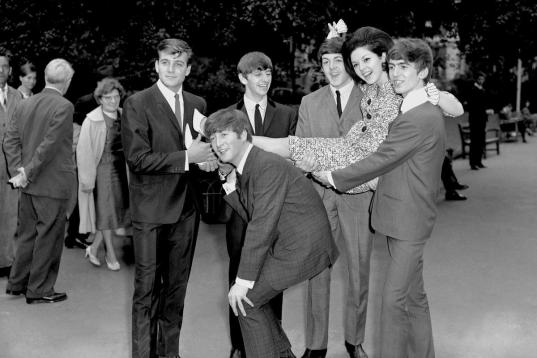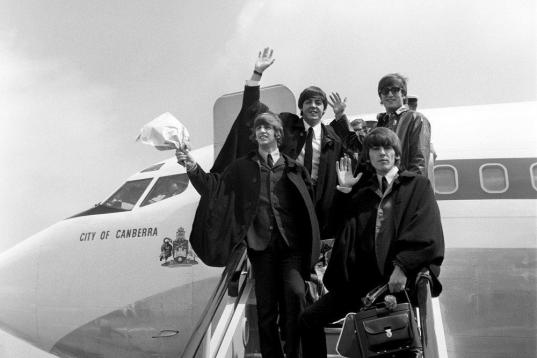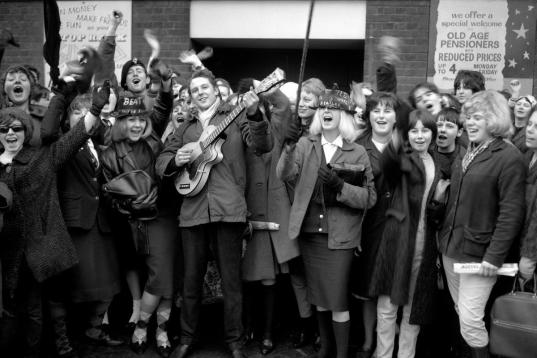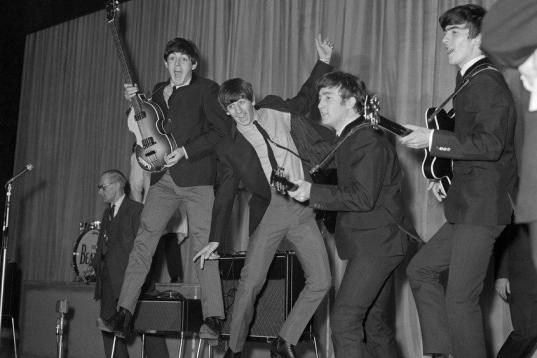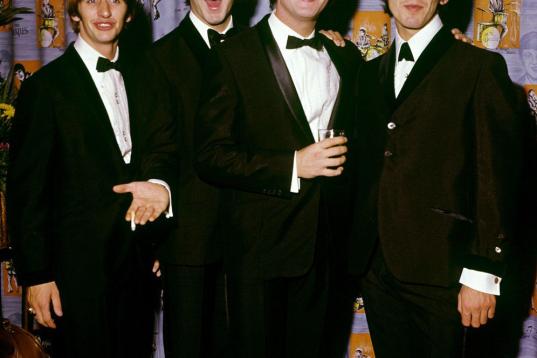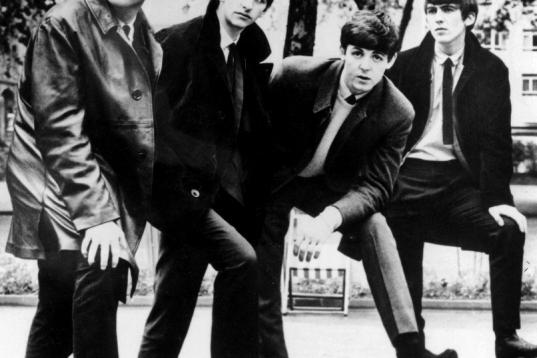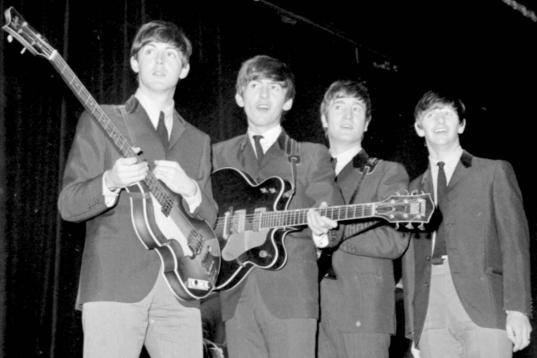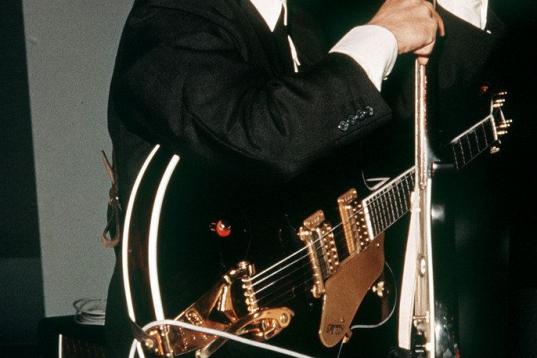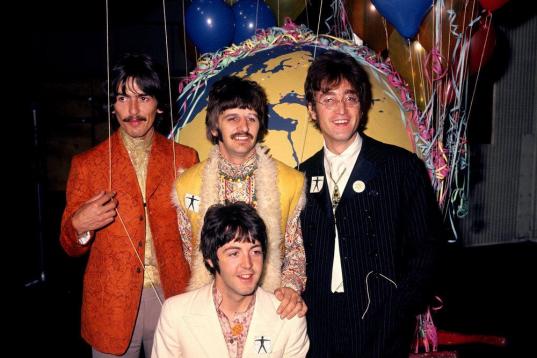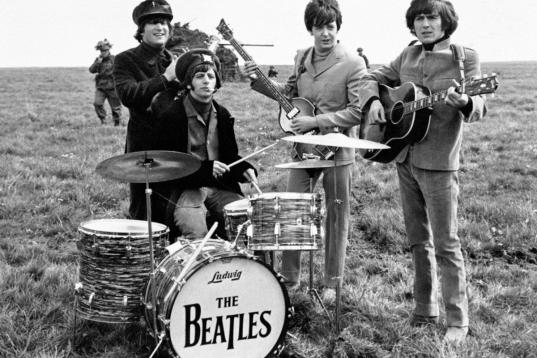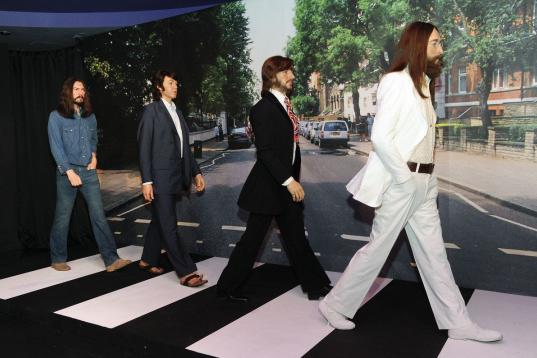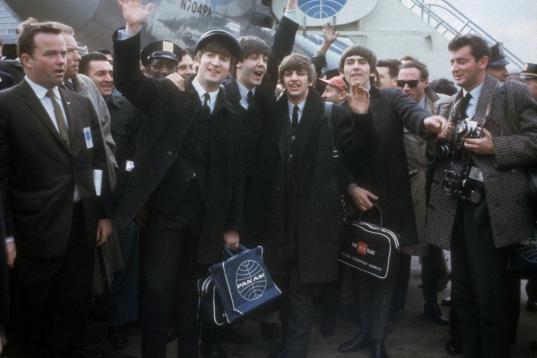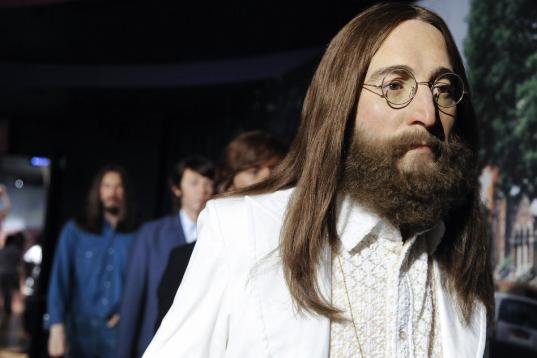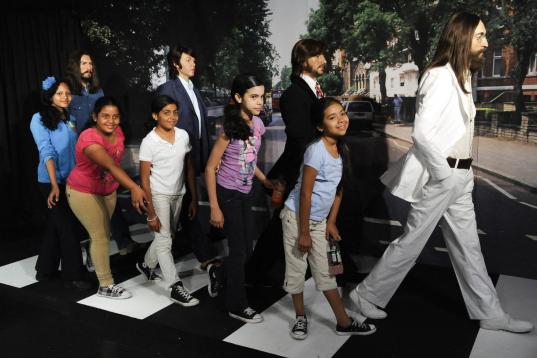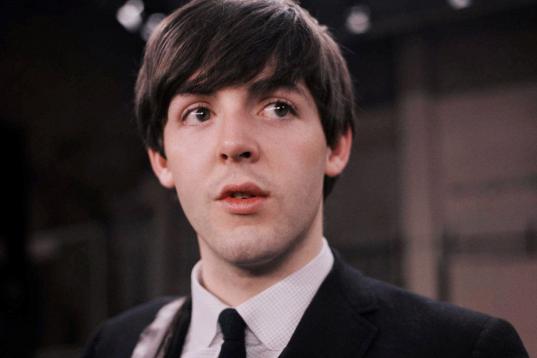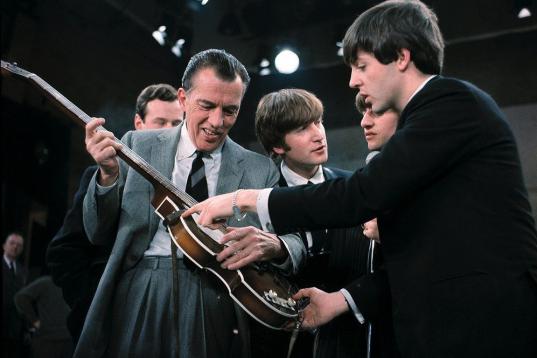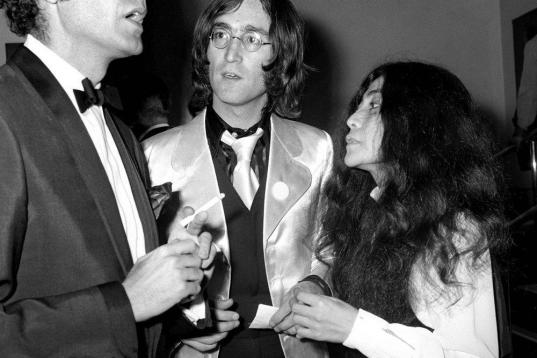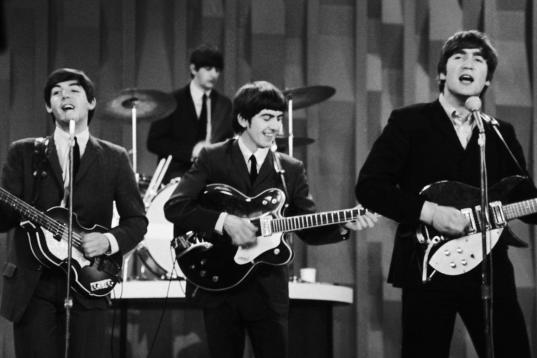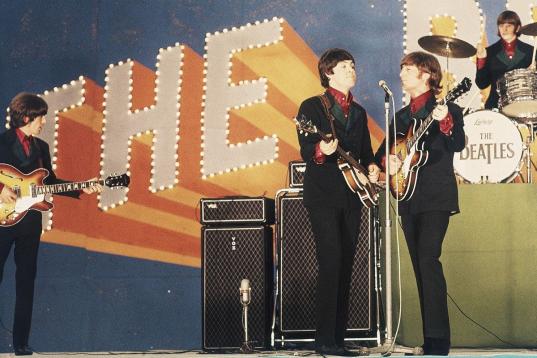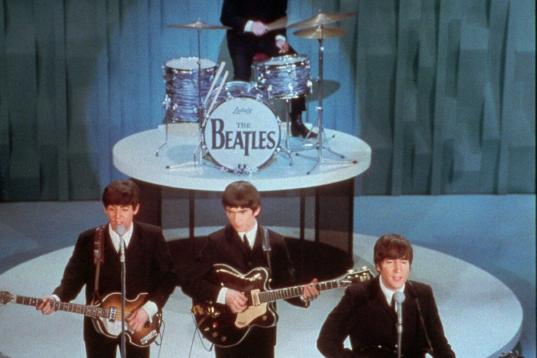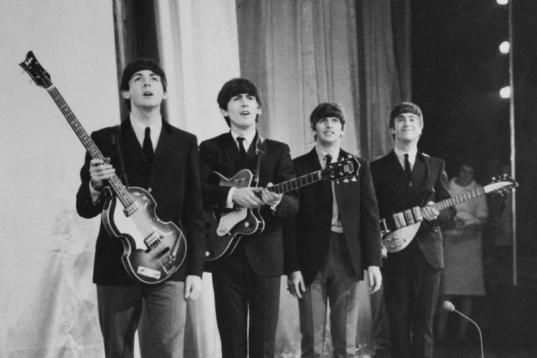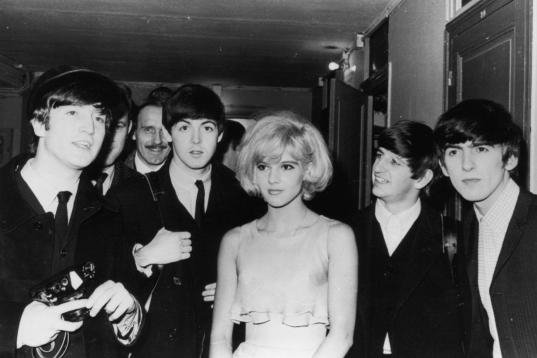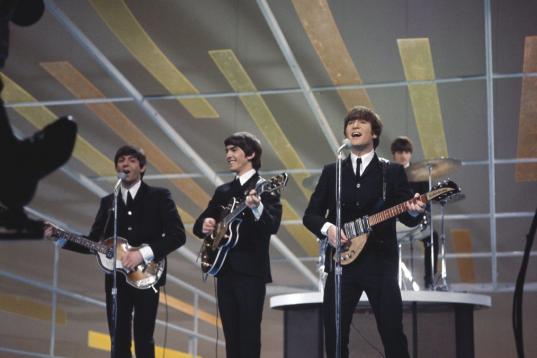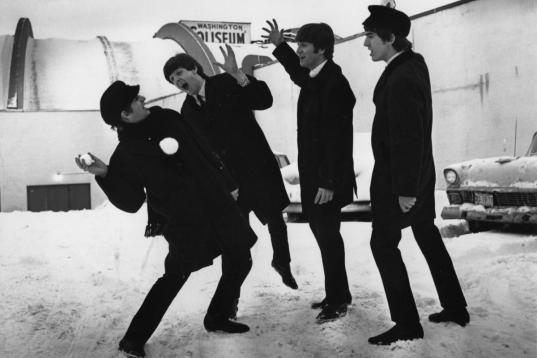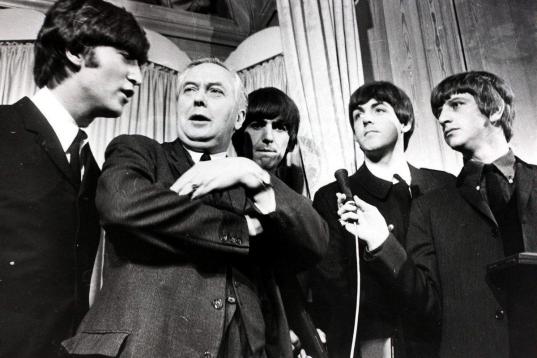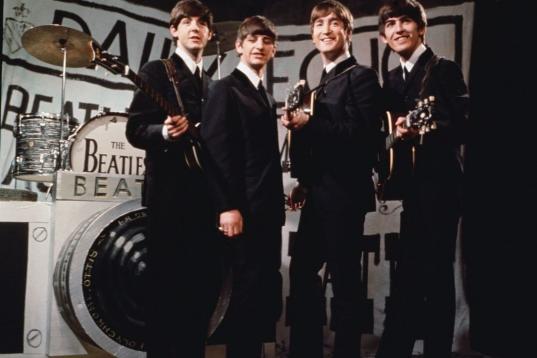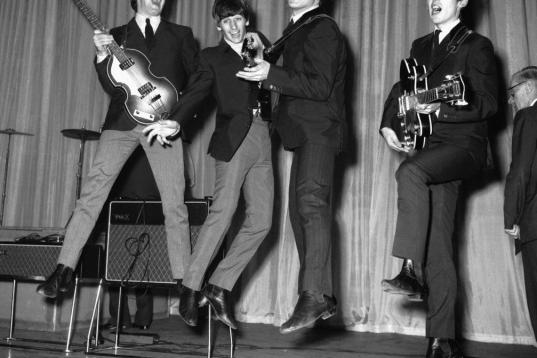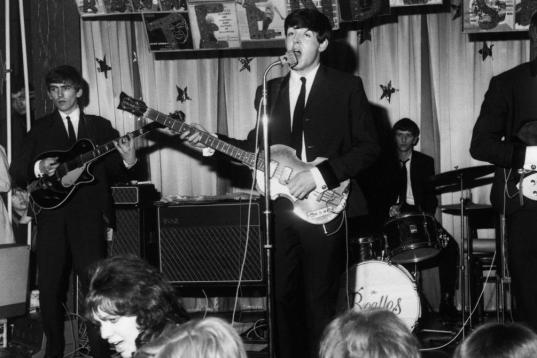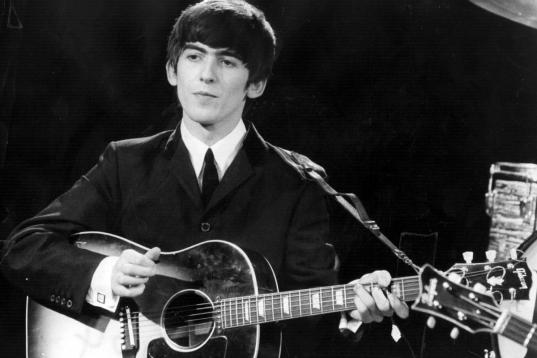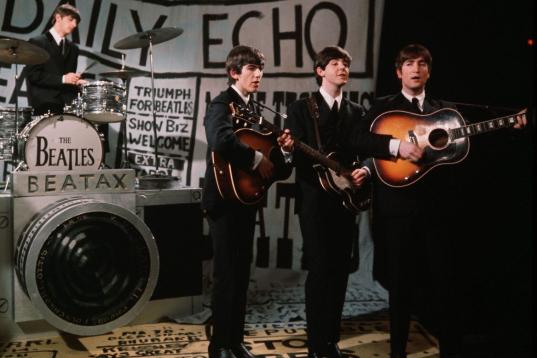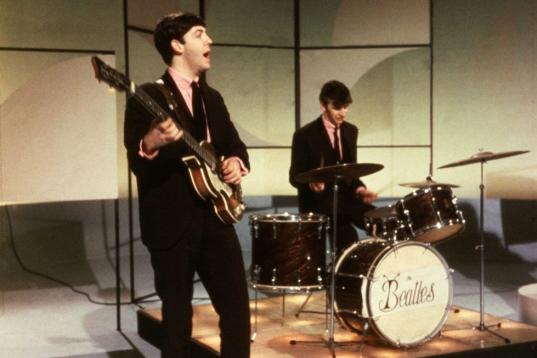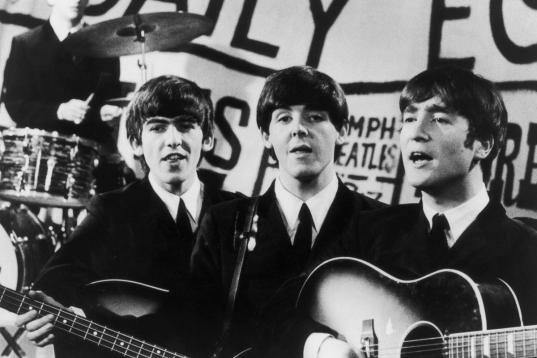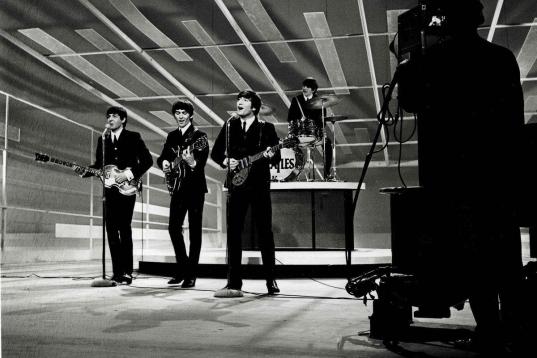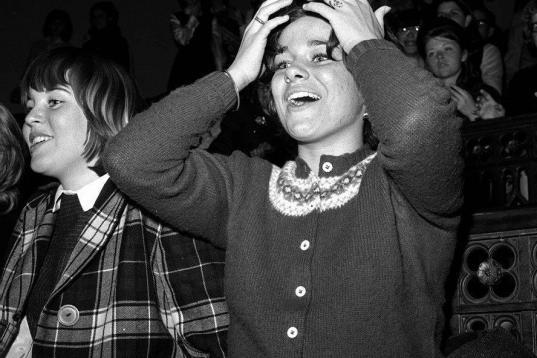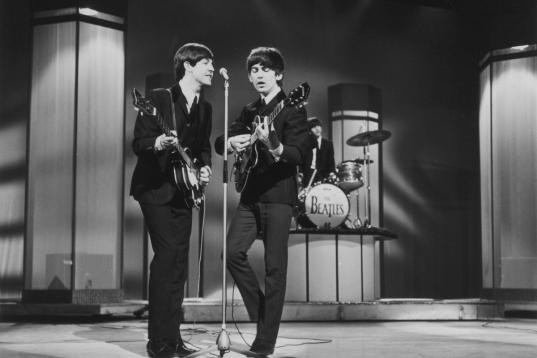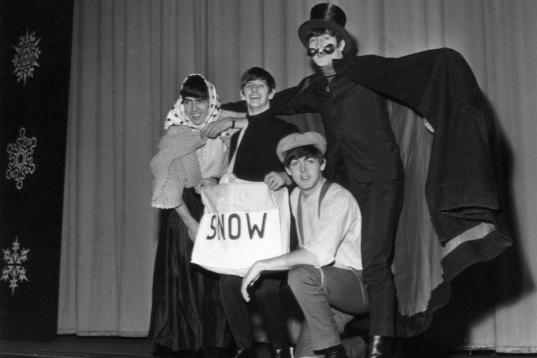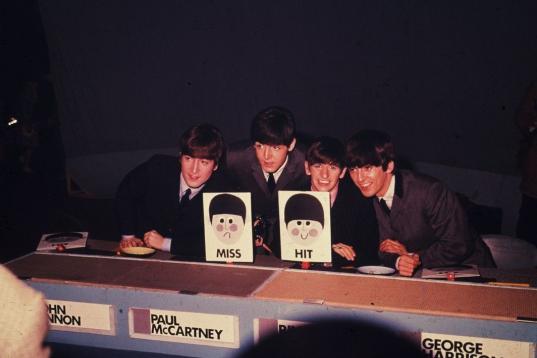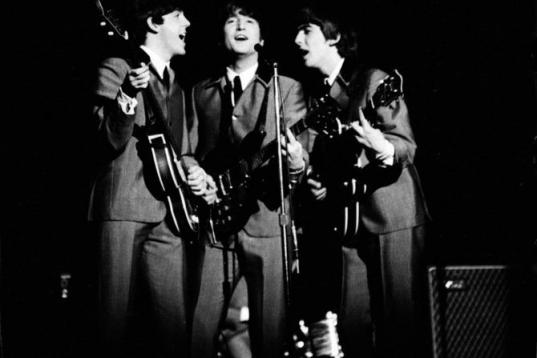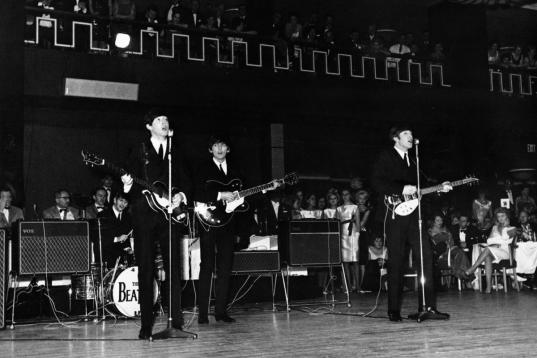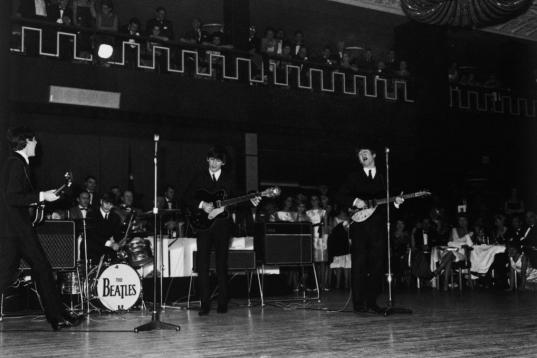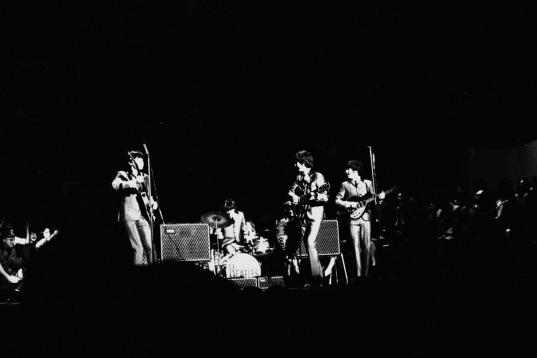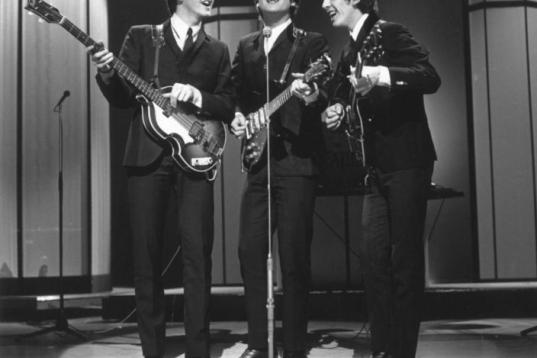 The Beatles (from left) Paul McCartney, John Lennon and George Harrison (1943 - 2001) performing at the London Palladium. (Photo by Les Lee/Getty Images)
Traducción de Marina Velasco Serrano