Por qué arde EEUU: claves para entender qué ha pasado tras la muerte de George Floyd
La violencia racial inunda las calles del país mientras Trump culpa a la extrema izquierda y a los demócratas.
De Minneapolis a Los Ángeles pasando por Seattle, Dallas, Chicago, Atlanta, Detroit, Miami. Filadelfia, Washington, Nueva York... Más de 75 ciudades estadounidenses se han echado a las calles para decir basta al resurgir de los peores fantasmas de EEUU. La tensión racial ha vuelto a instaurarse en un país donde las heridas del pasado, marcado por la segregación racial, se reabren a la mínima.
La muerte de George Floyd ha provocado los disturbios más graves desde el asesinato de Martin Luther King y, mientras, el líder del país aviva las tensiones mientras se refugia en el búnker de la Casa Blanca.
¿Quién era George Floyd?
Un hombre afroamericano de 46 años que murió hace una semana en Minneápolis después de que un agente de policía le asfixiara. La víctima no tenía armas, estaba esposado y tumbado sobre el suelo boca abajo y el agente le apretó con la rodilla contra el cuello durante cerca de siete minutos.
El vídeo sobre cómo sucedieron los hechos ha dado la vuelta al mundo.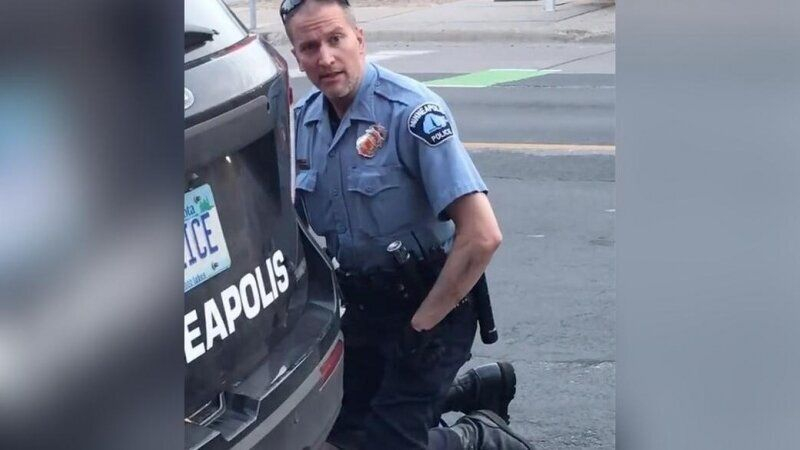 "No puedo respirar, no puedo respirar", se escucha suplicar a la víctima, mientras los viandantes protestan y exigen, sin éxito, al agente que pare.
¿Qué dice la policía sobre los hechos?
La Policía de Minneapolis emitió al día siguiente un comunicado en el que explicaba que a última hora de la tarde del lunes dos agentes acudieron al número 3700 de Chicago Avenue South por una denuncia de falsificación de documento. El sospechoso era la víctima, que, según el texto oficial, estaba sentado dentro de un coche y "bajo los efectos" de alcohol u otras sustancias.
Le ordenaron que saliera del vehículo y, después de hacerlo, "ofreció resistencia física". "Los agentes fueron capaces de esposar al sospechoso y advirtieron que parecía sufrir problemas médicos", se explica en el documento, en el que se añade que fue entonces cuando llamaron a una ambulancia. Fue trasladado a un hospital, donde falleció.
Sin embargo, las diferencias entre el relato policial y lo que se ve en el vídeo son evidentes.
¿Y la investigación?
Que Derek Chauvin, el agente de Policía imputado por el asesinato de George Floyd, mantuvo su rodilla sobre el cuello del fallecido durante ocho minutos y 46 segundos. Así se sentencia en el documento presentado por la Fiscalía del condado de Hennepin contra Chauvin, ya expulsado del cuerpo.
Chauvin ha sido acusado de asesinato en tercer grado y homicidio involuntario en segundo grado.
El documento confirma que los eventos que llevaron a la muerte de Floyd, el pasado lunes, comenzaron después de que la Policía acudiera a atender una queja sobre un billete falso de 20 dólares en un comercio local, y apunta a un forcejeo previo entre Floyd y los agentes. La víctima no quería entrar en el coche de Policía y se enzarzó con los agentes antes de tirarse al suelo. Chauvin procedió entonces a colocar su rodilla izquierda en el cuello y en la cabeza de Floyd.
El informe también destaca el peligro que representa esta maniobra. "La Policía sabe que este tipo de contención sobre una persona tendida en el suelo es inherentemente peligrosa".
Floyd manifestó en varias ocasiones: "No puedo respirar", "Mamá" y "Por favor", mientras Chauvin y otros agentes permanecían en la misma posición.
Además, otros tres policías -Thomas Lane, Tou Thao y J. Alexander Kueng, que ya han sido también despedidos del cuerpo- estaban presentes en el momento de la detención de Floyd y el fiscal del condado, Michael Freeman, ha asegurado que pretende inculparlos, tras las críticas por su instrucción del caso.
¿Cuándo comenzaron las protestas?
Desde el mismo día en el que se produjeron los hechos, la muerte de Floyd generó una oleada de protestas que arrancó primero en Mineápolis, la ciudad más poblada del estado de Minesota, para después extenderse por todo el país. La comunidad negra considera que se trata de un episodio más de brutalidad policial contra los afroamericanos, el último de una larga lista que abarca varias décadas.
Siete días después, hasta 75 ciudades estadounidenses han sido escenario de graves enfrentamientos entre manifestantes y fuerzas del orden, unos altercados que por la noche han ido acompañados de numerosos actos de vandalismo: quema de vehículos y mobiliario urbano, rotura de escaparates de comercios, saqueo de tiendas...
Los disturbios ya se han cobrado, al menos, una víctima: la madrugada del sábado al domingo una persona murió en Indianápolis y otras dos recibieron disparos durante las protestas que tenían lugar en el centro de la ciudad.
En Nueva York, la tensión también está siendo palpable en las calles: un coche patrulla arrolló a varios manifestantes que le bloqueaban el paso e incendió aún más la ira contra la policía. Los arrestados superan ya el millar en todo el país y hay cientos de heridos, entre ellos numerosos agentes.
¿Qué hace el presidente?
Añadir más leña al fuego. El líder estadounidense, Donald Trump, ha culpado de los disturbios a la extrema izquierda, que ha personificado en el movimiento Antifa, a quien clasificará de "organización terrorista".
It's ANTIFA and the Radical Left. Don't lay the blame on others!

— Donald J. Trump (@realDonaldTrump) May 30, 2020
Según el inquilino de la Casa Blanca, este grupo y "la izquierda radical" son los responsables de las imágenes de violencia que se han extendido por todo el país en los últimos días.
También el fiscal general, William Barr, aseguró en una declaración que ordenará a la Fuerza de Tareas Conjunta del FBI que identifique a los "grupos radicales y agitadores externos" que aprovechan estas protestas para "perseguir su propia agenda".
"La violencia instigada y llevada a cabo por la Antifa y por otros grupos similares en relación con los disturbios es terrorismo doméstico y será tratada en consecuencia", advirtió Barr.
Pero hay más: ahora el presidente ha amenazado con sacar el Ejército a las calles para acabar con las protestas.
¿Qué es Antifa?
Es un pequeño pero ruidoso grupo radical que, tras la llegada de Trump a la Casa Blanca, se ha hecho cada vez más activo, sobre todo para contrarrestar las manifestaciones de los supremacistas blancos. Puedes leer más sobre ello aquí.
¿Cómo ha reaccionado la oposición?
Han sido miles los que han alzado su voz contra lo que está sucediendo en EEUU. La última en hacerlo ha sido la legisladora demócrata Alexandria Ocasio-Cortez, quien se ha preguntadopor qué el FBI no trata a los supremacistas blancos, grupos que son simpatizantes de Trump, también como grupos de terrorismo interno.
También la Unión Estadounidense de Libertades Civiles (ACLU) ha criticado el anuncio de Trump y ha dicho que "no tiene la autoridad legal para designar un grupo como (terrorista) interno".
Y mientras, la Covid-19...
Lo que se manifiesta desde la pasada semana, las manifestaciones y tensiones raciales que vive el país, suponen un bucle que dura ya 53 años. En EEUU son muchos ya los ejemplos que ponen de manifiesto cómo el maltrato policial es un mal endémico que ha vuelto a sumir al país en el caos. Un país que, como el resto del mundo, lucha contra el coronavirus, que ha impactado mucho más a los afroamericanos en cantidad de difuntos y en pérdida de empleos y viviendas.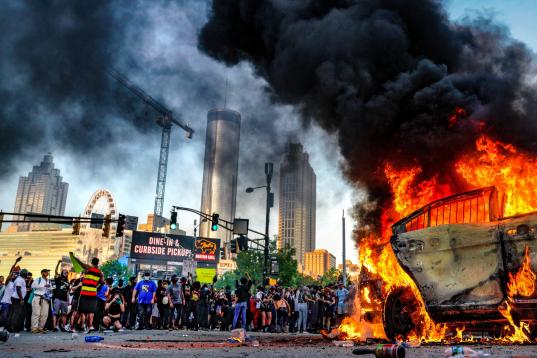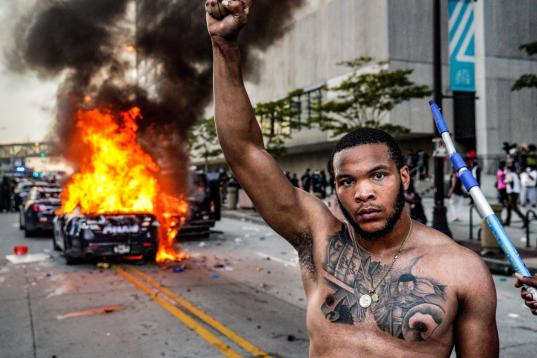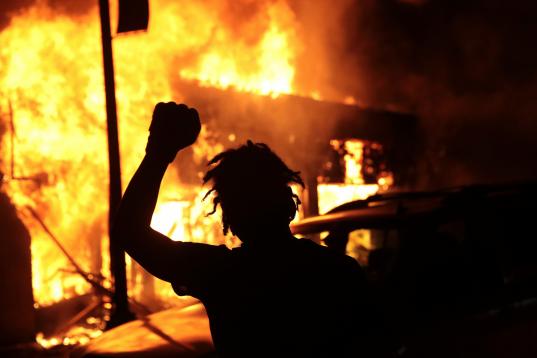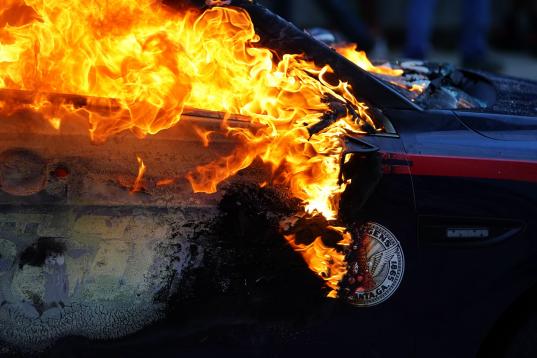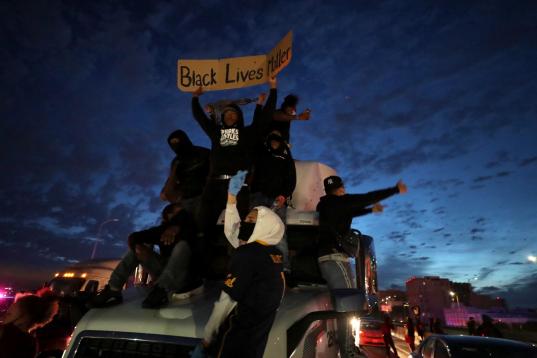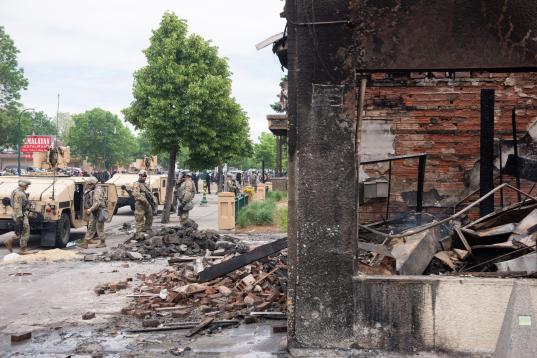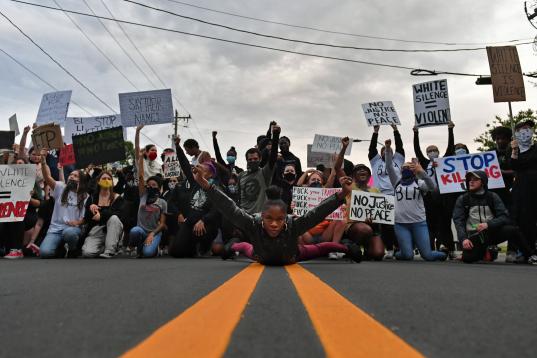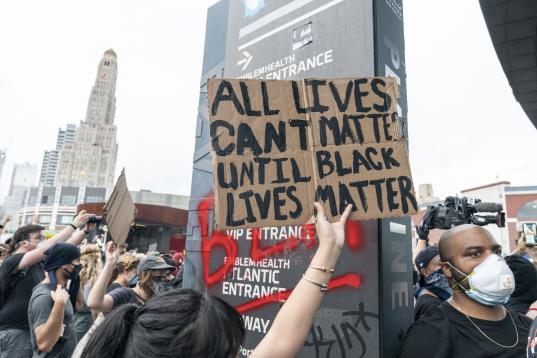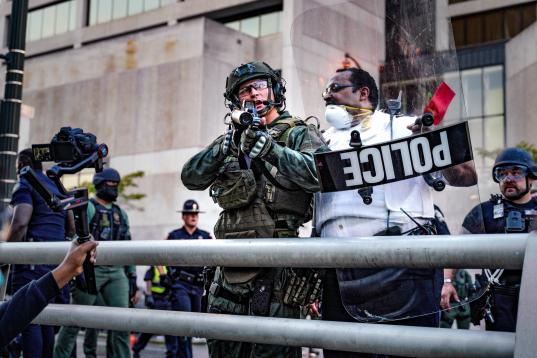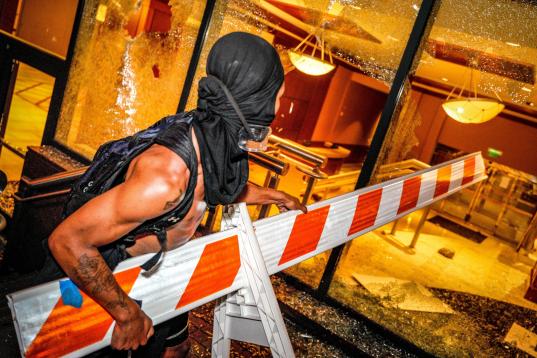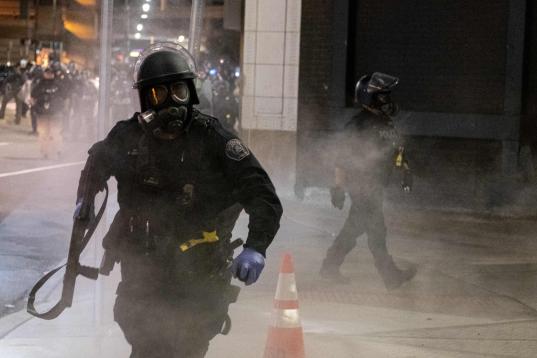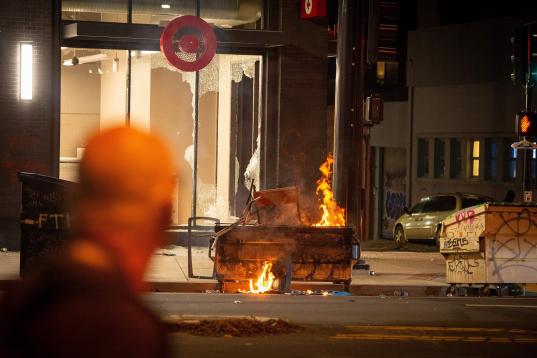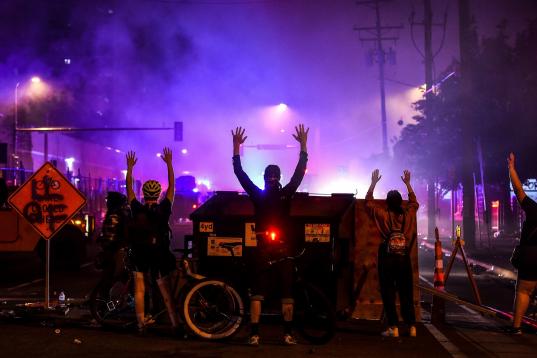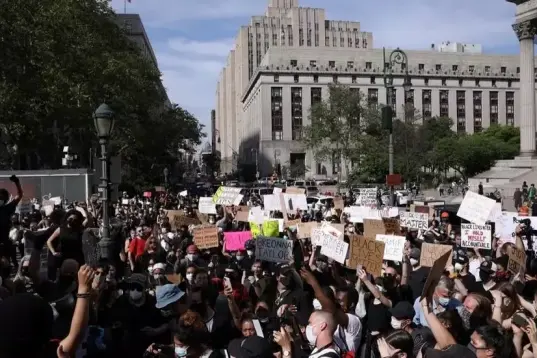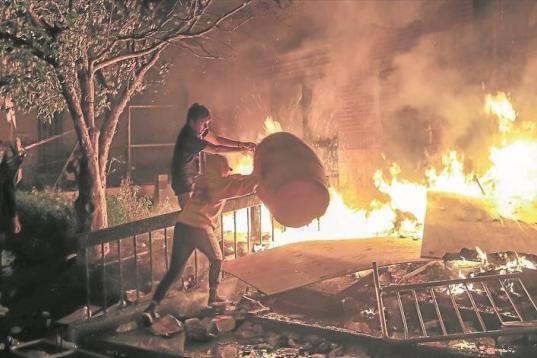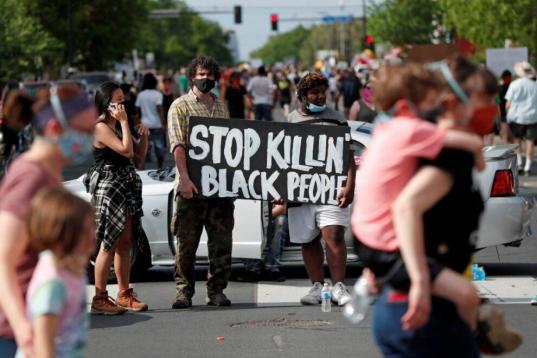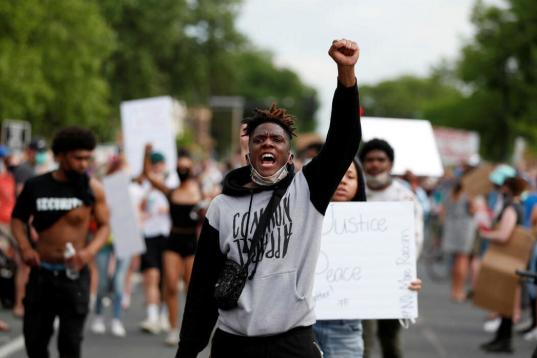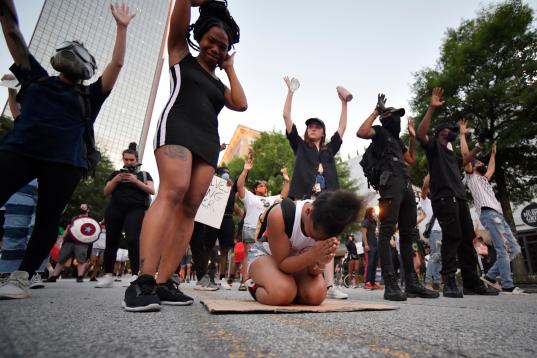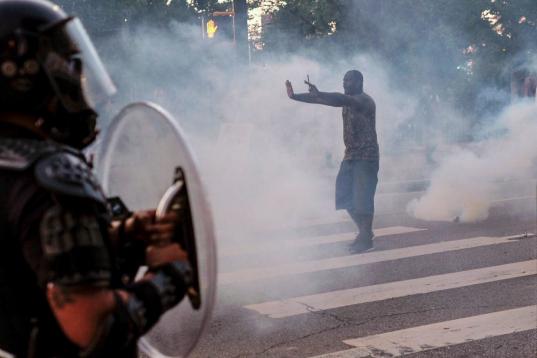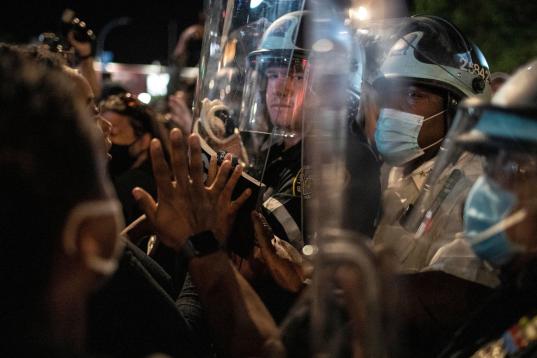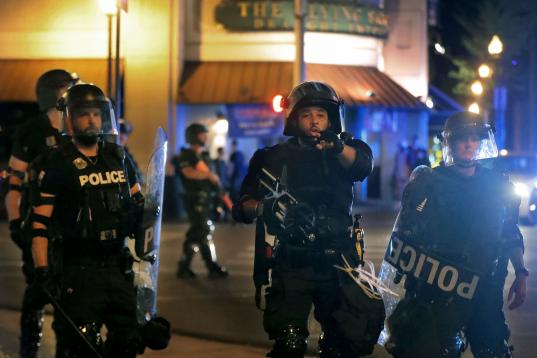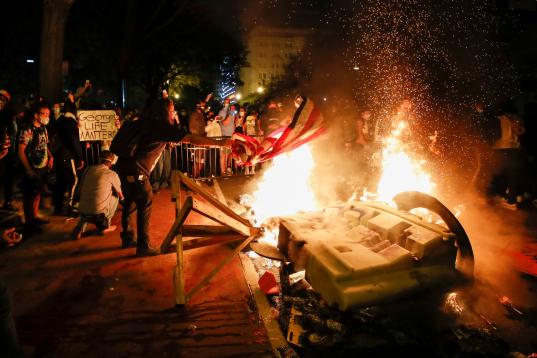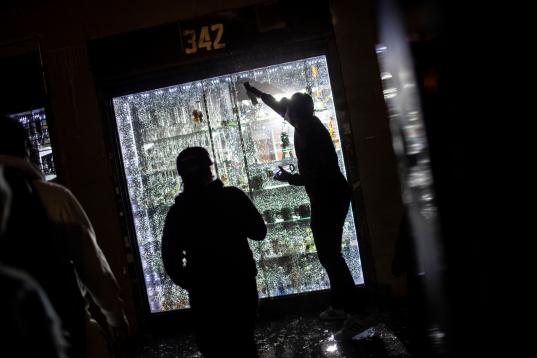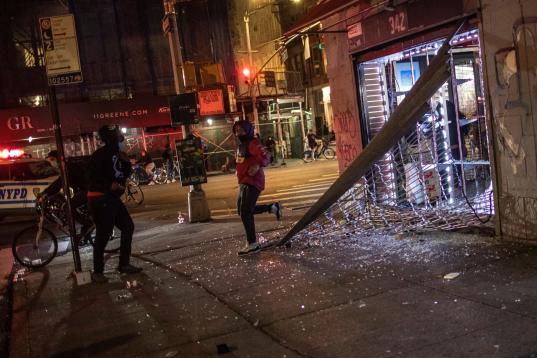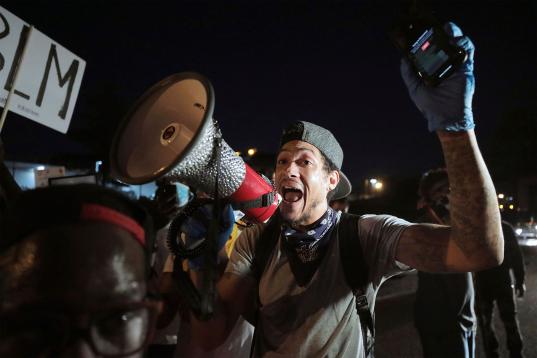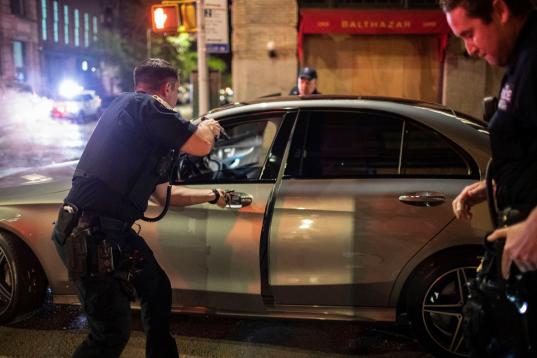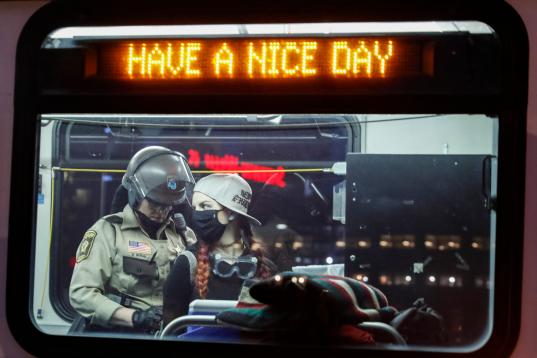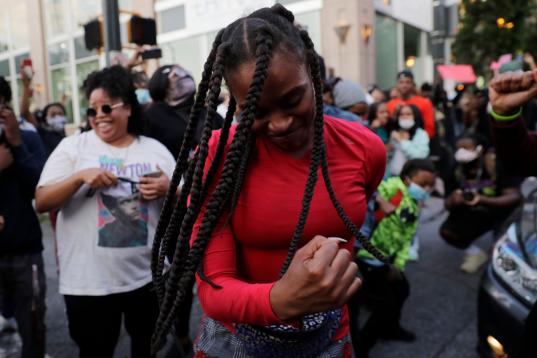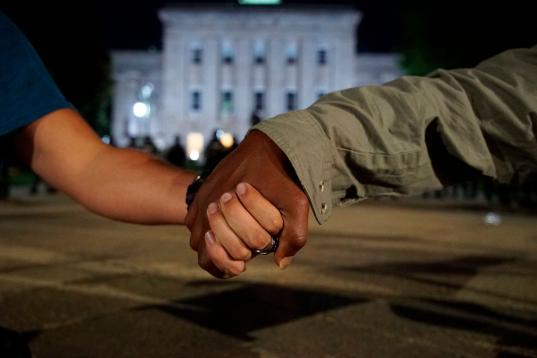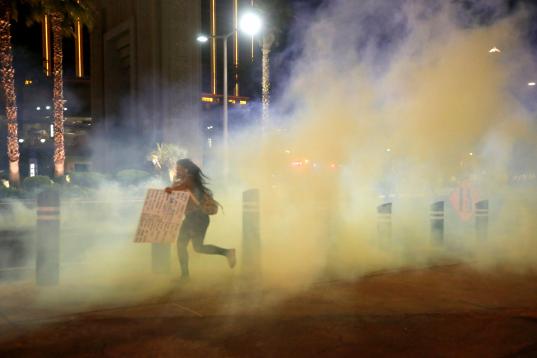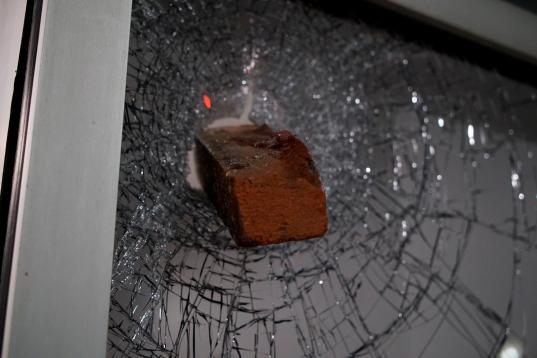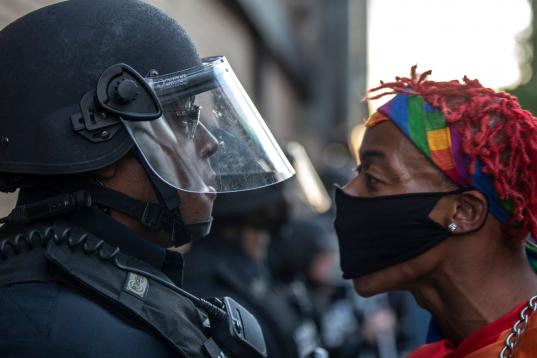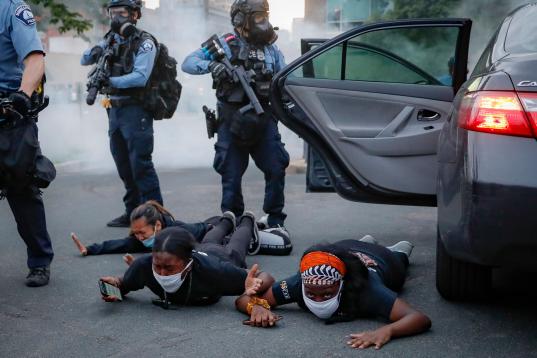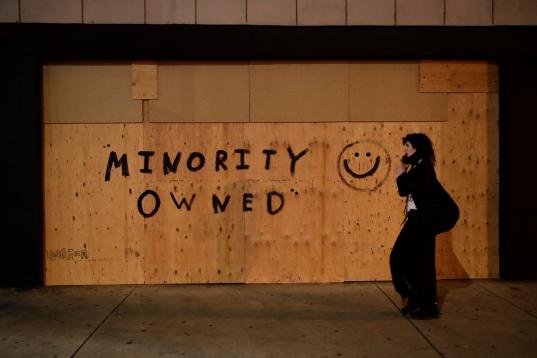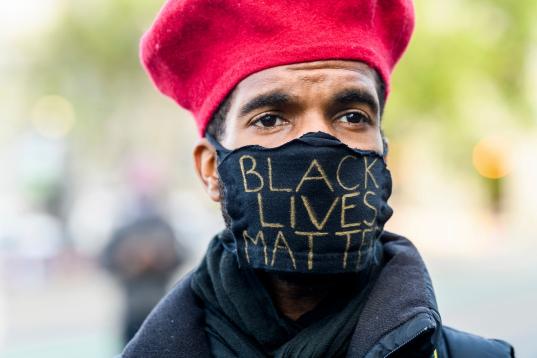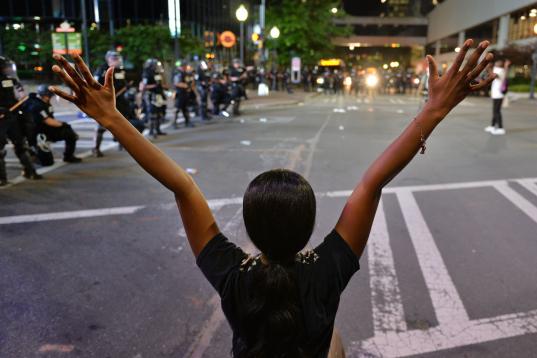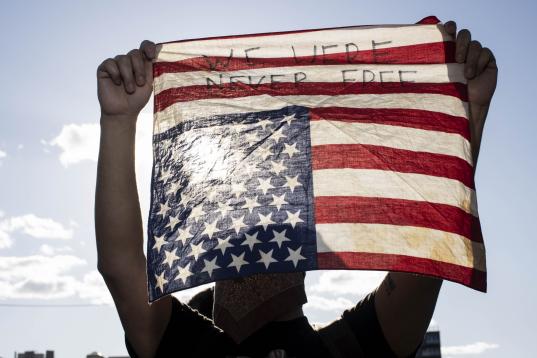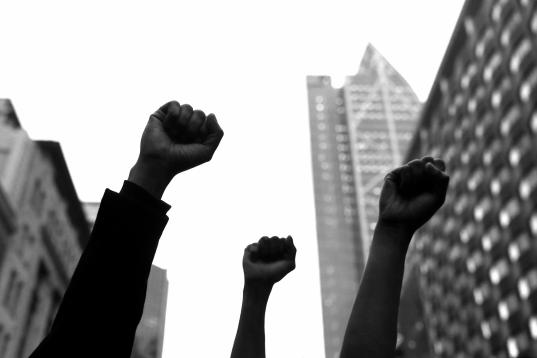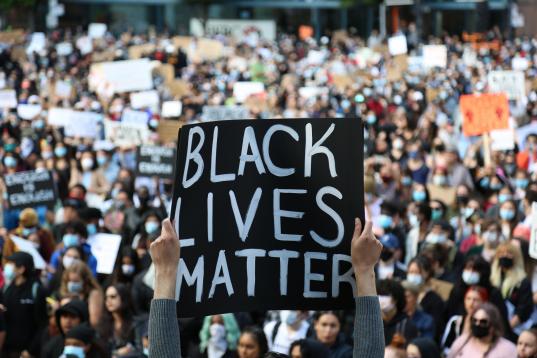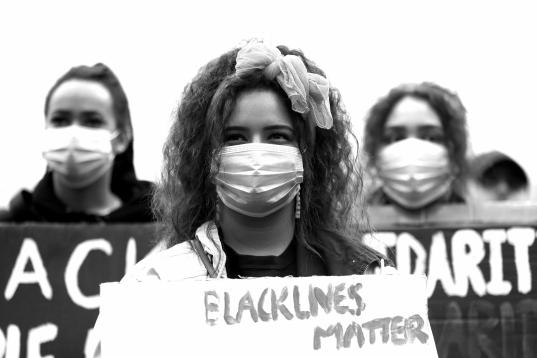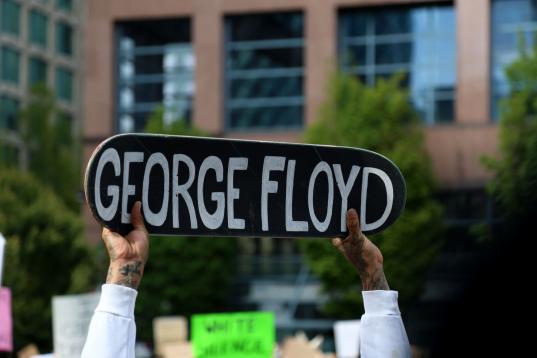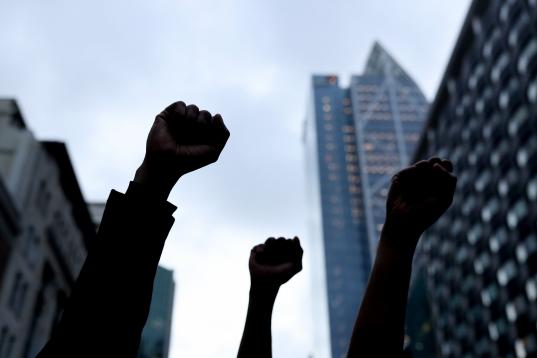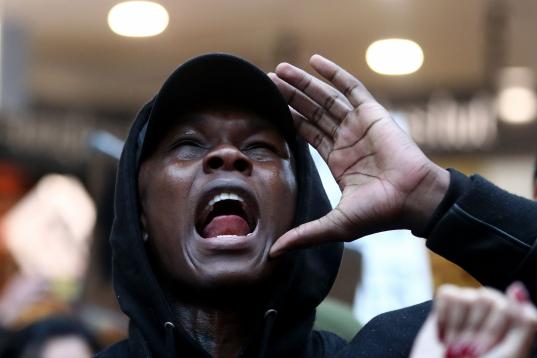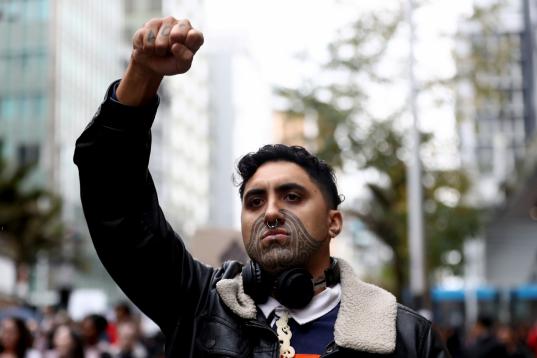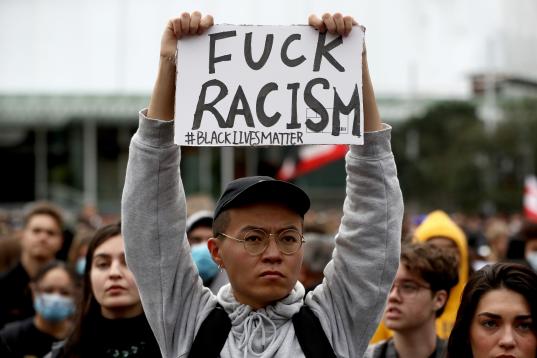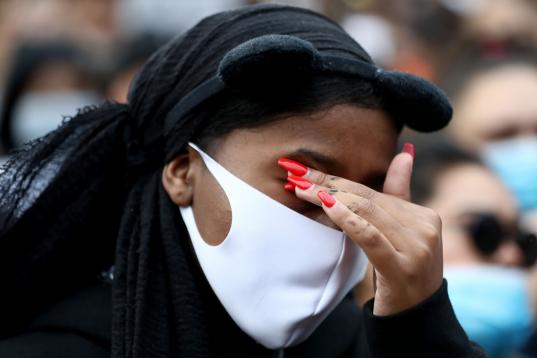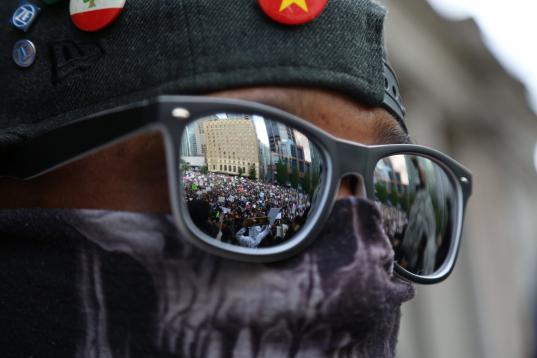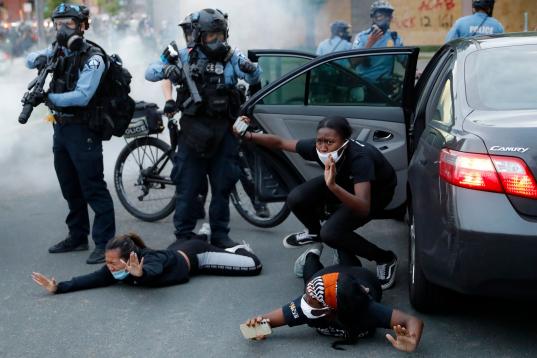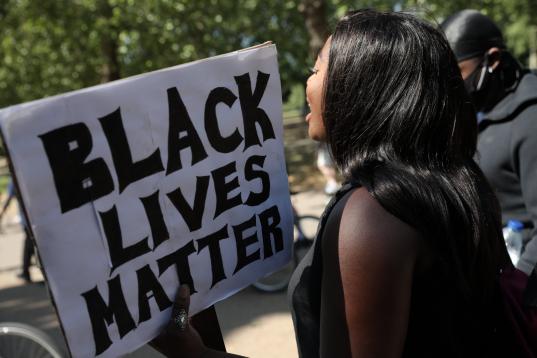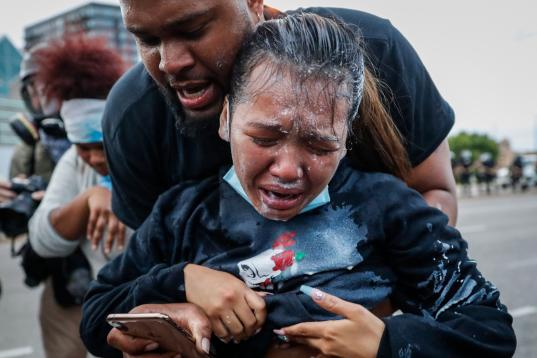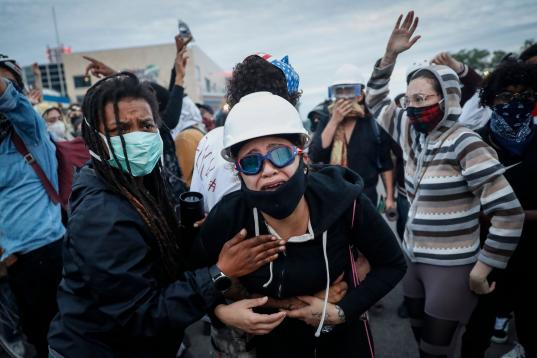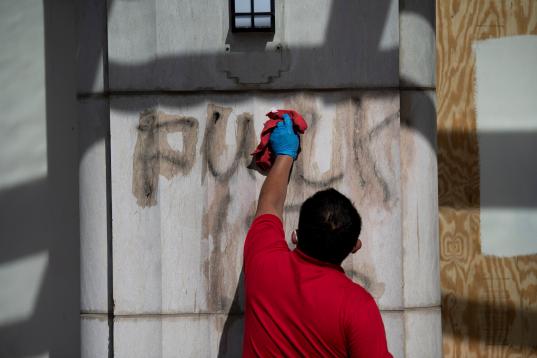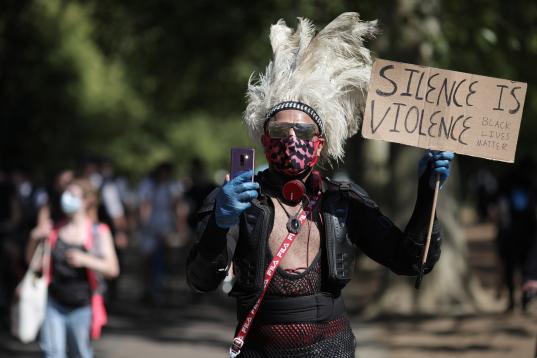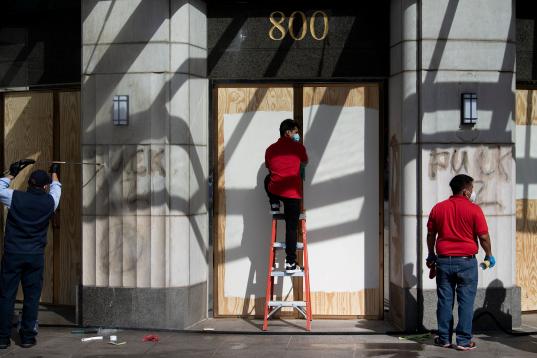 People remove graffiti near the White House after a third night of violent protests over the death of George Floyd on June 1, 2020, in Washington, DC. - Police fired tear gas outside the White House late Sunday as anti-racism protestors again to...
Close slideshow